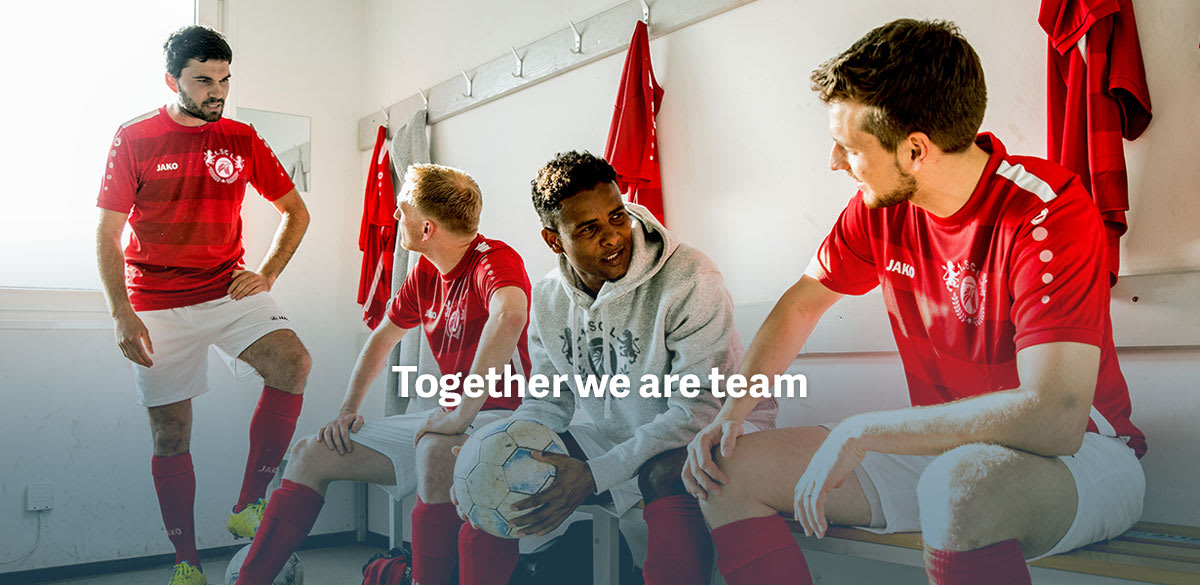 Football Kit Designer
Design your own football shirt in just a few steps
1. Choose your products: kit, shirts, shorts, etc.
2. Upload your kit design: Use your own or our free designs
3. Add your unique text and choose your font
4. Add names & numbers of your teammates
5. Print method will be automatically selected
(Digital Direct, Digital Transfer, Flex & Flock Printing)
Best price offer - Jako Team Jersey
Suited for all sports
Customised print
Also available as jersey kit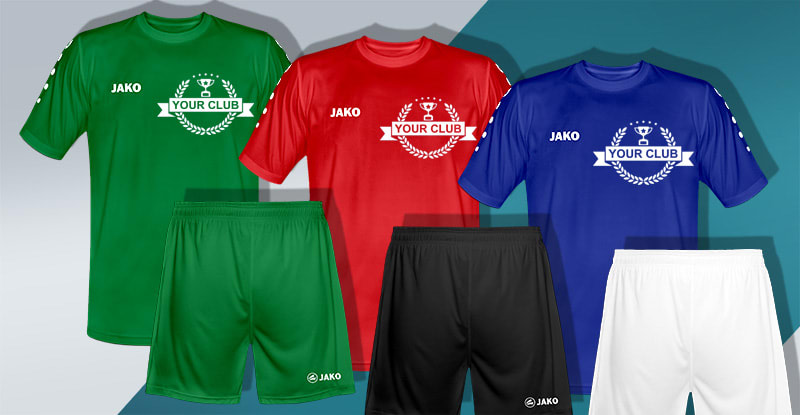 Show your team with TeamShirts
Get inspired by our football designs
Everything for Your Football Team Kit
Whether you play in your local football team or with your friends, or train for the national premier youth football league, you can outfit your entire team, your fans and your family at TeamShirts.
We offer bespoke sportswear and football apparel to fit any budget. From lightweight, breathable jerseys and shorts to keep your team cool on the fields, to fan shirts and jumpers to keep your supporters warm in the stands; or classic polos and custom accessories to complement your team apparel on the sideline.
You're sure to find the perfect football team kit in our large selection of sportswear and jerseys and shirts. Looking for something special? We hear you! Aside from breathable football uniforms and shirts we also provide the entire range of track suits from cotton joggers with a relaxed fit to a comfy all seasons fleece for outdoor activities.
All football shirts are available for kids (so that you can also outfit your youth football team) and adults as well as in many different colours. They're made of an extremely durable fabric that will survive many washes, victories and defeats (please make sure to carefully read the washing instructions on the label of your jersey!). Don't forget to order matching custom long-sleeve jerseys, sweatshirts and hats for outdoor training sessions in winter! How about some some cool personalised football shirts or blankets as gifts for the little ones? Want to go green? With our growing collection of organic shirts your team can show their environmental commitment.
Check out our entire product range and have your football designs and logos printed on jerseys, shirts, sweats, shorts, and matching accessories to create your one in a million football team kit. Since some team members will want to show off their own unique style you can customise each player's football shirt or drinkware with a number and name in different fonts and colours – we even have special flex foils like glow in the dark or glitter. We recommend you request sample shirts as well as test prints both for size estimations and to examine the designs, jersey quality, and prints. Ready, steady, customise!
Football Shirt Printing in a Snap
At TeamShirts, we understand teamwork and how important high quality football kits and a custom team look is for your team's performance in the pursuit of success. We also know that coaches and players need all their time and energy preparing for the moments that count out on the pitch. This is why we strive to take the hassle and confusion out of designing and ordering your unique football team kits.
Our TeamShirts football shirt designer tool is easy to use and provides you with loads of design options to create the perfect football team apparel. Save your designs and jersey or shirt templates, share them with your teammates and let them vote on their favourite football kit, colours and designs. This makes even larger orders with many different personalised football shirts an easy task for coaches as it gives every team member the opportunity to put in their two cents and have their jersey custom printed their way (e. g. with their monogram, mascot or photo). Getting custom football kits for your world class look has never been easier – with our online tool it takes just few simple steps to design your football team kits. Let us worry about your football shirts so that you and your team can concentrate on the challenges ahead.
Football is nothing without fans. Our sportswear and football team apparel is not only for coaches and players but also for all you loyal and passionate supporters out there in the stands. Personalised football shirts also make for great gifts for young and old football devotees.
We help you turn your athletic wear or team uniform dreams into reality by assisting you at every stage of the process – from the design idea to choosing the best delivery method so that you have your football jerseys in time for the next match. Combined with our TeamShirts volume discounts and free shipping for every regular purchase, why have your custom jersey printed anywhere else? So look like the pros, play like the pros – with personalised football shirts from TeamShirts.