Awesome Discounts
Big discounts even for small teams. We have the best prices on team outfits.
Free delivery
Your standard delivery is absolutely free of charge. Choose express delivery if you need it faster.
100% Satisfaction Guaranteed
In case you're not satisfied with your goods, we'll take them back – within 30 days of receipt.
Choose a canvas for your logo
Personalised Aprons – A Team Favourite
Personalised aprons and tabards offer a great way to outfit teams at times when a uniform appearance counts. If you want your team of chefs and waitstaff to look the part and sport a united appearance, one of the best ways to get the notion of a unified culinary team across is by personalising aprons for the whole group. Cooking aprons and tabards for baking can be personalised with your company's logo and any kind of text you want to add. Premier items include embroidered logos to have your chefs stand out in an upmarket style (without the upmarket cost) which reflects products and services your company provides.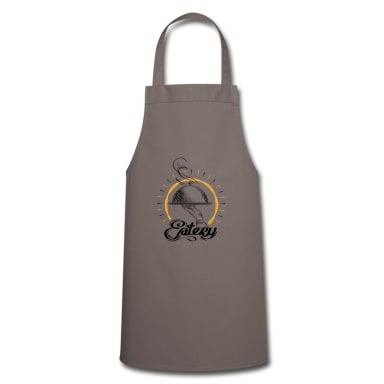 Create Aprons with Designs and Text
Our design tool is easy to use so you'll be able to create your own aprons in a matter of clicks. 
Just upload your design, logo or any other graphics file that you want to print on aprons.
You will be able to adjust the size and add text. This is perfect for printing the names of staff members or marketing slogans along with your company logo.
Once you've created your company aprons, we'll print the batch and deliver it in a matter of days.
Ask for a sample apron if you'd like to test the fit or see how the finished product will look.
A Custom Chef Apron to Personalise
At TeamShirts, personalised aprons are some of our most popular items. Aside from our custom chef's apron, our product assortment includes useful accessories such as mugs, keyrings and cushions. We also stock workwear like our bestselling shirts, and sportswear like hoodies and fleeces. Just browse our product assortment or make an inquiry via email or telephone, and a friendly member of our staff will make you an offer without any obligation. As a company specialised in bulk orders, we'll provide you with a volume discount for any substantial order you place.
Get inspired by our free designs
Unisex Aprons – Always a Perfect Fit
The aprons at TeamShirts UK are a perfect fit for women and men as they can easily be adjusted by means of the waistband on their back. They come in a variety of colours to make them anyone's favourite protective garment. When you need outfits for your company booth at trade-fair stands, our quality aprons are bound to impress, giving a highly professional presence. When you need to outfit catering staff to deliver the prosecco to business clients, TeamShirts personalised aprons are a perfect fit to create professional workwear for the occasion.
Restaurant Merchandise – Aprons, Mugs & T-Shirts
You don't need to run a hard rock cafe to make selling restaurant merchandise a success. With a good selection of restaurant T-shirts, mugs, hats and lanyards, you can capitalise on your restaurant's reputation whilst promoting your brand. It's great advertising for the cuisine on offer, and you can be sure that TeamShirt UK's quality restaurant merchandise will reflect well on your business. Of course, the extra revenue generated by restaurant merchandise sales will be is always welcome! Best of all, there's no better complement to the chef than a walking advertisement for your restaurant.
Any Questions left?
Our service will gladly recieve your request and help you the best
way we can at info@teamshirts.co.uk or  020 39661820.