100% Satisfaction Guaranteed
Personalised T-Shirts with your logo – The Key to Success
At TeamShirts we know that a professional corporate look is important for your company, which is why we provide an almost limitless array of work shirts ready to be personalised that will meet your expectations without blowing your budget. We've got something for all shapes and sizes! Make your team look professional but approachable with personalised 100% cotton t-shirts or organic polo shirts sourced from companies using responsible production methods. Boost your brand and get your message seen. Simply customise products with your logo and increase your brand awareness.
From Top to Bottom - our Products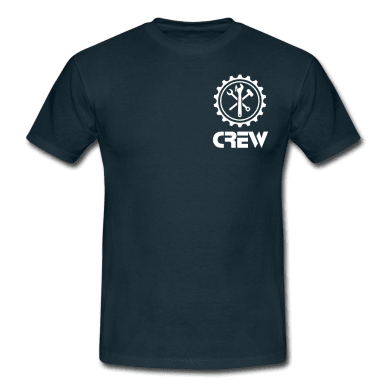 Design Branded T-Shirts in just a few steps
 Choose your T-shirt: Browse through our products and colour selection.
Upload your T-shirt design: Upload your own logo or use the free designs from our gallery. 
Add your text: Complete your T-shirt design with your text and choose the font.
Add Names: Use our "Names & Numbers" feature for team orders. This is an easy way to personalise your T-shirts for the whole team.
Done! Let us print & deliver: Free delivery is included.
Professional Prints for Professional Clothing
Unsure which printing technique is best suited to your personalised work t-shirts? No problem! Let us worry about prints, graphics, designs and ink. Using our longstanding printing experience we have developed a variety of professional printing processes that will achieve the best results for your unique business apparel. With our printing techniques, such as flex and flock printing, Digital Direct and Digital Transfer, you're guaranteed to get prints that will stay strong after multiple washes and stand up to general wear and tear. Each process gives you near ultimate design freedom - plaster your image, brand's logo and text anywhere you'd like to - combine printing techniques or use different printing techniques for every t-shirt. Add distinctive design features for every member of your team, such as names or job titles to personalise each garment and help your prospective customers to put a name to a face from afar! If you're after something to help stand out from the crowd, why not use one of our special plot printing foils like glow-in-the-dark, metallic or glitter to give your promotional giveaways a unique and creative edge. Create practical and promotional business apparel that makes your companies employees easy to recognise. Also feel free to browse our gallery which contains a huge collection of stock designs, creative slogans and graphics templates that can be personalised to fit your unique needs. Best of all, you don't have to spend a fortune to get quality business t-shirts or work polo shirts from TeamShirts. With our great group discounts (on all orders of 5 or more personalised clothing and accessory items), you can be sure that you're getting great value for money no matter what. Why go anywhere else for your personalised business attire?
Save time and energy: let your teammates take part in the customisation process
Collect Team Details
Swiftly gather your teammates' names, numbers and sizes and save the corresponding information in your own personal space.
Names and numbers
The days of scribbled notes on paper scraps are over. Casually enter all the relevant information in one single team list – no headaches, no confusion.
Voting function
Take your teammates' pulse by letting them decide which design they would rather go for. Thanks to the voting function, everybody has a say.
Unique team discounts
Up to 60% discount on ANY KIND of group orders: Our amazing discount rate applies in all cases, no matter how many different designs you've ordered.
Haven't found what you're looking for?
Get assistance from our Service: 020 3966 1820 or use our contact form.
Don't know which logo suits your team?
We'll be glad to help you create the custom garments you need.
Anything missing on this page? Send us an email with suggestions for improvement!
We're set on improving our product range to offer you what you need.