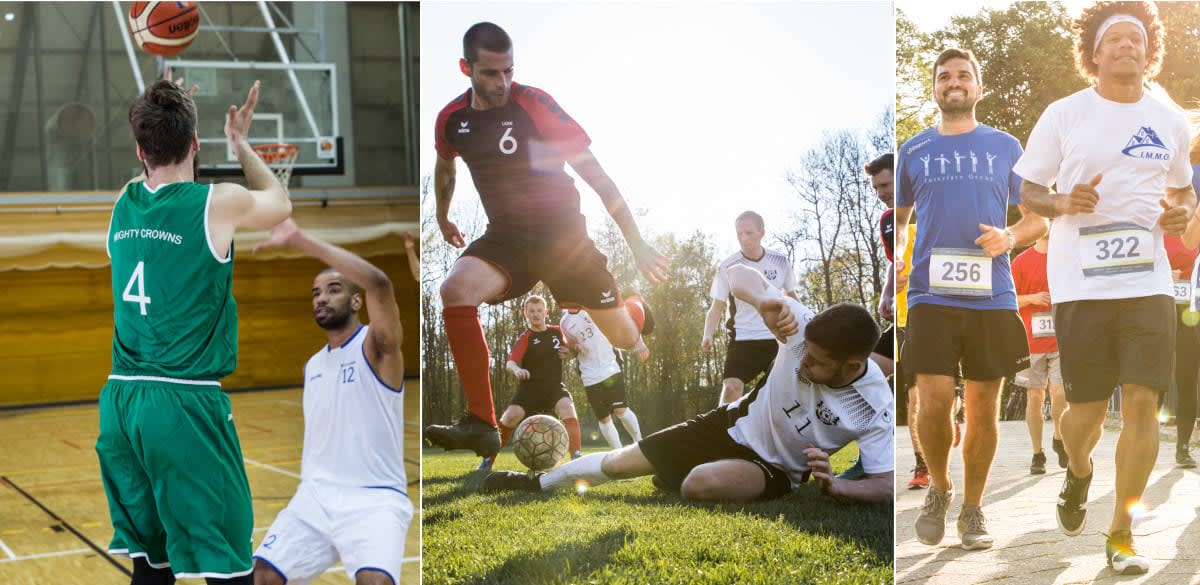 Football Kit Designer
How to create personalised sports kits?
5 steps to create custom jerseys:
Click on the "Choose your kit" button to get to the kits overview

Choose a product for your team and select a colour

Upload your logo or choose a design from our gallery

Add text if you like (e.g. motto, names or numbers)

Done! A suitable print method will be automatically selected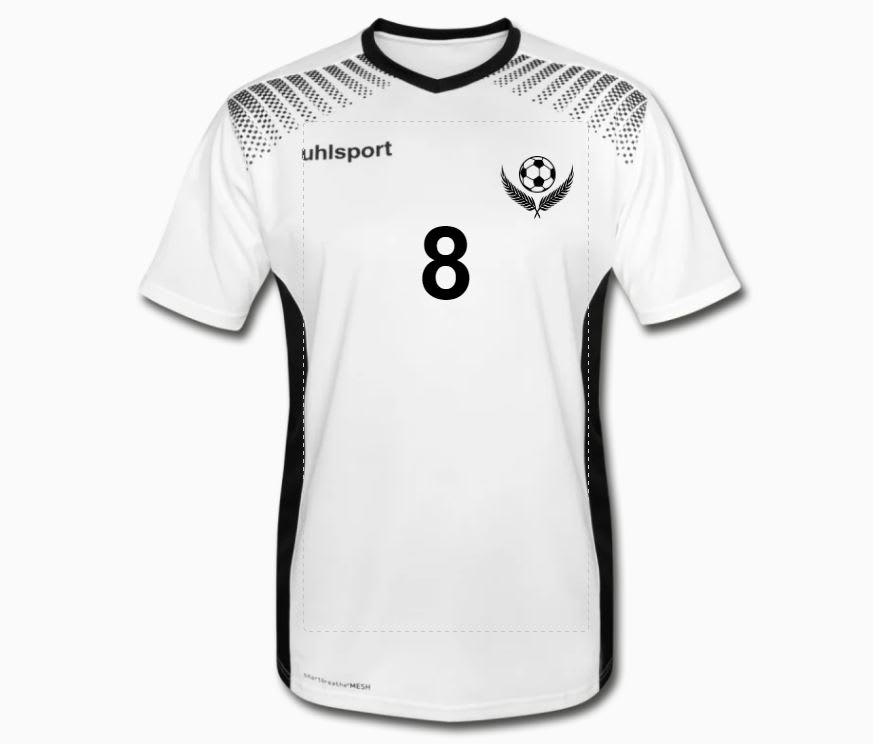 Sports kits for your team
Whether it's football, baseball, cycling, volleyball or one of the countless other team sports: Success always boils down to team spirit and mutual motivation. If you want to show off that team spirit with pride, uniform teamwear is absolutely indispensable. It lets you instantly recognise your comrades-in-arms even in the most chaotic of situations. What's more, football jerseys, cycling tops, etc. with the same design send a clear message: Prepare to face a strong team! Our service is on hand to make sure you can design and print completely custom sports kits.
Best price offer - Jako Team Jersey
Suited for all sports
Customised print
Also available as jersey kit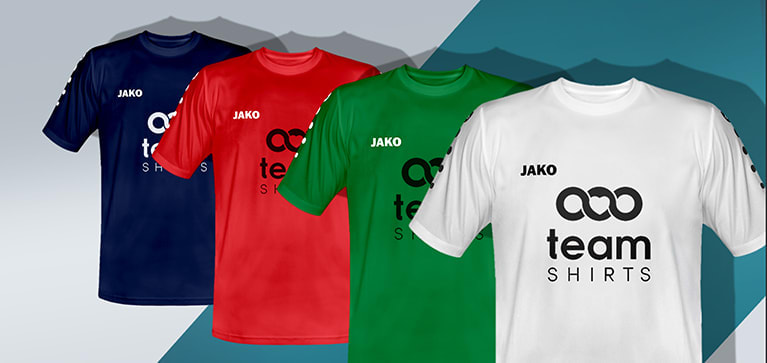 Custom Kit Teamwear
How to design your personalised sports kit:
With TeamShirts you can make your own football kits, cycling jerseys and other sportswear for your team in just a few steps: To begin, pick a product and select a colour. You then upload your chosen design or text, e.g. a funny slogan. Next, simply choose the size you need for each team member – done!
If you want to customise each garment even further: You can use our kit designer to add player numbers to each shirt. It's also possible to add the name of each team member. This means you have uniformly designed sports kits for the whole team – but it's still easy to tell each other apart on the field or on tour.
Find the right design:
Nowadays, many sports teams have their own logo or club labels. Thanks to the likes of Photoshop, even amateurs can put together interesting teamwear designs. However, if you'd rather concentrate on your sport than on designing, just use one of our designs on your shirt or jersey. Use the kit creator to quickly and easily adjust the colour and size of your chosen design. In fact, we offer a huge selection of design ideas, which you can turn into your very own personalised jersey creations in just a few clicks. Whether you're looking for a sporty symbol, amusing images or a cool slogan: With our selection of designs you're guaranteed to turn heads! This way you can design your own football kit for your team and still add each player's individual number and name.
Show your team with TeamShirts
Make your own football kit with the TeamShirts kit designer
Select the right jerseys for your team sport:
Our products will leave you feeling spoilt for choice. After all, we have T-shirts and jerseys in all sorts of fits, fabrics and brands. And of course, we even stock a range of jersey sets for kids. Breathable jersey sets from Erima and Jako are especially recommended for sweaty sports. Matching studs are perfect for rounding the look off. Retro shirts and V-neck jerseys are also particularly popular. You can also choose baseball-style jerseys, classic unisex shirts, eco-conscious organic T-shirts or fashionable American Apparel shirts for your sports kit. Our bestsellers for young teams are slim-fit shirts and contrast T-shirts. Once you've found the right jersey, matching shorts are a must. We also offer long tracksuits for those colder training days.
Select your kit printing method:
We can print your jerseys in different ways. Flock printing with its velvety, thick surface is a particularly popular solution for sportswear. This printing method is very good for printing logos and detailed designs on jerseys. We also recommend flex printing, because it's very durable and guarantees a high colour intensity. Of course, we do print all orders by hand. This means every printed sports kit is unique. Transfer printing is particularly suitable for printing photos on football jerseys, cycling jerseys and shirts. We also recommend this type of printing for all highly-detailed graphics. On request, besides digital printing processes, we can also offer you screen printing in our shop. This form of jersey printing is particularly suitable for large print runs. The print is of high quality.
Check out our benefits
Your TeamShirts service:
From football kits to cycling shirts: It's obvious why you would want personalised sportswear. No other team will have the same (or even similar) shirts – thanks to your own design and high-quality printing, you'll be simply unique! Plus there are plenty of benefits. Among other things, we even offer you up to 60% off - depending on the size of your order. We also provide plenty of support, and we're always here to help. We'll even send you samples of the different shirt models – just ask!
How to order:
As an online shop with a lot of experience in shirt design, jersey printing, shipping and return options, we offer you a completely satisfying shopping experience. Once you have designed your sports kit, click to add them to your shopping basket. Any discount is automatically deducted there. Then enter your delivery address, choose a payment method and place your order. You will receive your order within 10 days – and shipping is free. So with our shop you only pay for your teamwear, and not the shipping! And if you're not entirely happy with something, just send it back to us within 30 days.