Awesome Discounts
Buy more, save more. You can save up to 60% on your new team outfits.
Free delivery
Your standard delivery is absolutely free of charge. Choose express delivery if you need it faster.
All-In-One
Graphics service, satisfaction guarantee, express shipping: We've got your back on any issue.
It All Starts With The Right Gear - Make Your Own T-shirt!
We promise simplicity! Designing your own shirt is a great way to show your creativity and identity; custom T-shirts have the power to create lasting memories, start new traditions, and unite groups for a common purpose. Choose from our wide range of different T-shirts or other products. We print on almost anything you can wear - and so much more.
Our Most Popular T-shirts
Design your own shirt in just a few steps
Choose your T-shirt: Browse through our product and colour selection.
Upload your T-shirt design: Upload your own graphics or photos or use the free designs from our gallery. You can adjust the size and position of your design as needed.
Add your text: Complete your T-shirt design with your own unique text and choose a style that suits you from our range of fonts.
Add Names & Numbers: Use our "Names & Numbers" feature for team or event orders. This is an easy way to personalise your T-shirts for the whole group.
Done! Let us print & deliver: A suitable print method will be automatically selected depending on your chosen material and graphics. Free delivery is included.
Create now
A heroic "thank you"! The budget for our volunteers´ project is low anyway - thanks to TeamShirts, we were able to print our T-shirts at very reasonable prices, in really high quality. We´re looking forward to coming back next year!
Volunteers´ Centre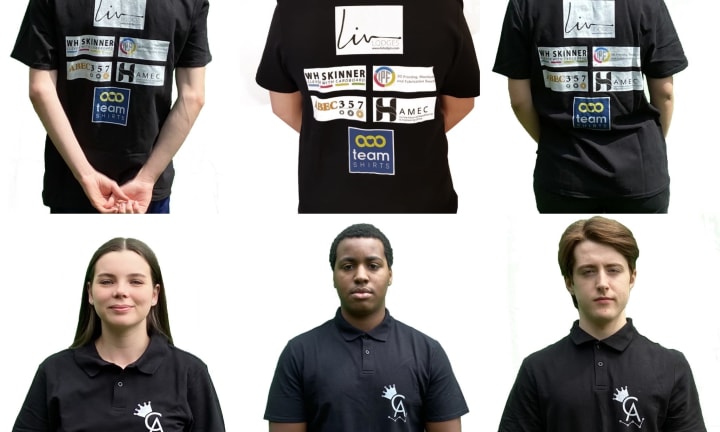 We ordered our team's uniform for the F1 in Schools National Finals from TeamShirts. The service was amazing and delivery was quick. We love the shirts and can't wait to wear them when the National Final can go ahead!
Team Cassiopeia, F1 in Schools UK Professional Class National Finalists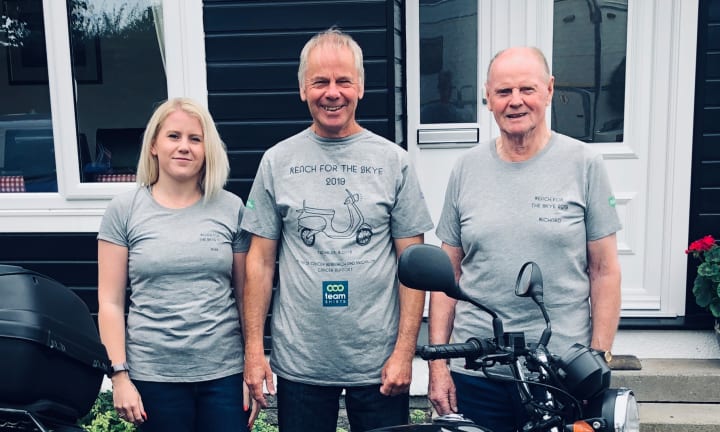 The service we have had has been brilliant and we love the t-shirts. The design process on the website was easy to use and flexible.
Reach for the Skye - Ride to Isle of Skye for Charity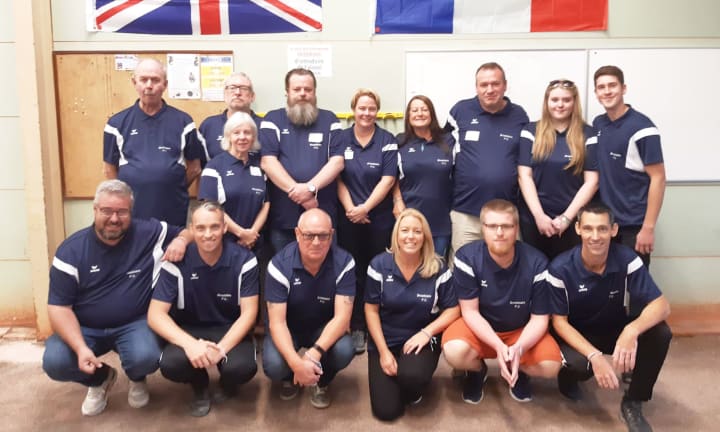 We recommend TeamShirts both for price, quality, printing and speed of delivery (right first time) We ordered from TeamShirts 37 shirts to be worn by 17 members of the Broadstairs Club and 20 members of the French Petanque team Le Cochonnet Wattignisien, which were delivered within 10 days.
Broadstairs Petanque Club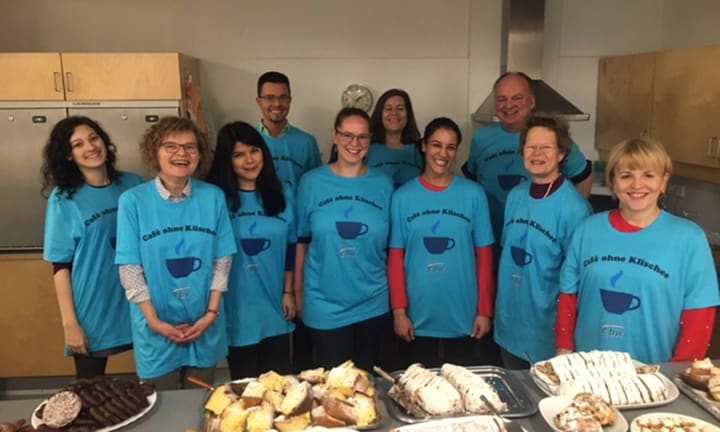 TeamShirts offers a fast, simple customer experience. The t-shirts look incredible. Definitely ordering here again!
Non-profit cafe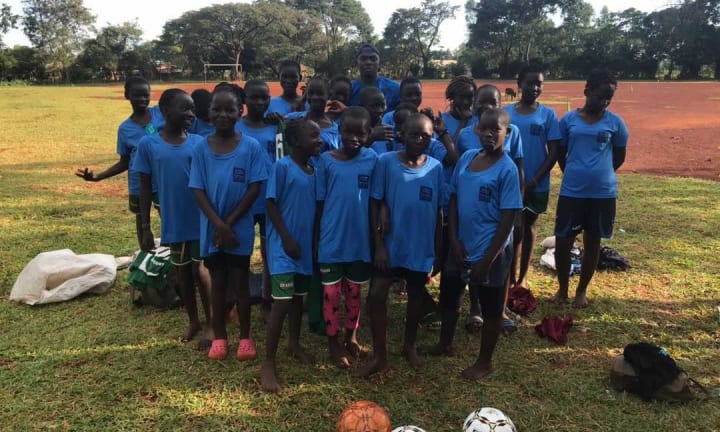 Thanks for the cooperation.
thedreamsalivefoundation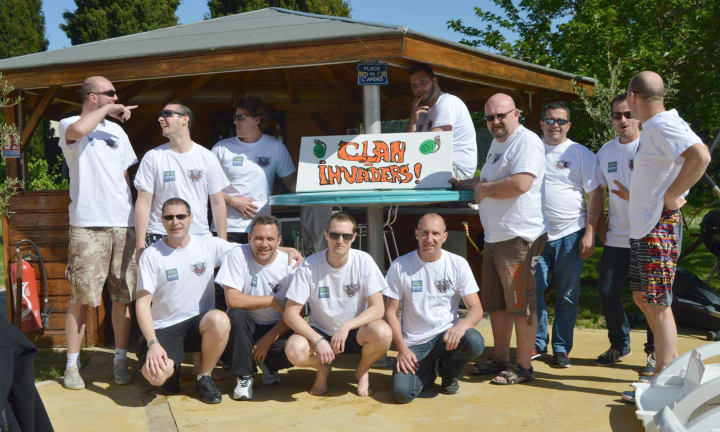 Thank you TeamShirts for your partnership with Clan-invaders and for the accomplished work. We send you a group picture of our last meeting which took place from the 5th to the 8th of May.
Clan-Invaders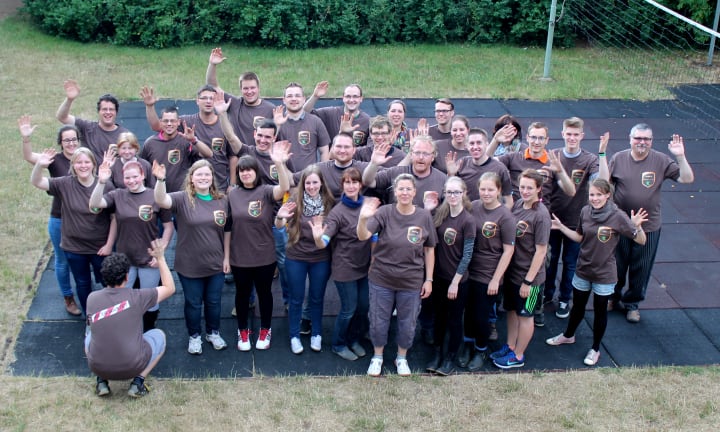 The t-shirts ordered for our employees do look great. Our 300 participants were all very pleased with the final result.
Association for child and youth work
Our Customers' Favourite Shirt
Our Ideas For Your T-shirt Design
Have something you want to tell the world? Say it loud with a personalised T-shirt! Want to show your school pride or give your team the winning edge? Design your own team apparel! Planning a friends next birthday party, hen or stag night? With our personalised shirts all of your events are sure to be remembered. Use our free designs for various occasions.
Why TeamShirts? We Have A Passion For T-Shirt Printing
We have 15 years of printing experience, allowing us to offer you different printing techniques to ensure that your personalised T-shirts will come out looking great.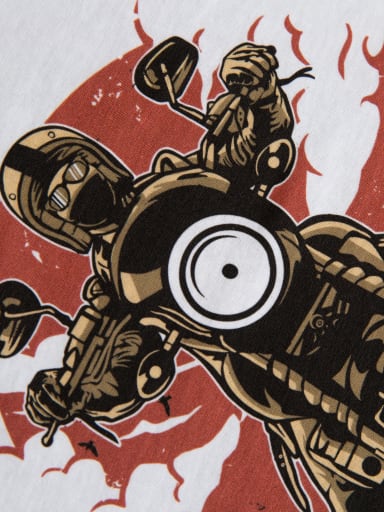 Digital Direct Print
Print with computer-operated digital print. Colours are sprayed on and made durable with a hardener. The fabrics can still be felt when touching the design, although the feeling is smoother than when using digital transfer print and therefore more comfortable to carry. Hand-washing ensures a long-lasting print. Results in a relaxed "vintage look". The design looks slightly faded, so don't expect brash colours. It is not suitable for prints on breathable products, since they require flex or flock printing.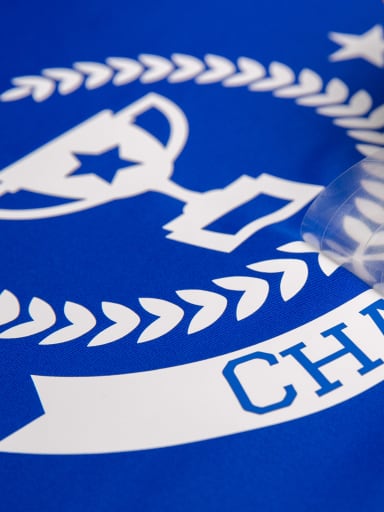 Flex Print
Flex is a printing technique where the design is cut from a coloured foil and then pressed onto the shirt under high heat. The printed colours have a slight shine to them and contrast extremely well with fabric. Tests have shown that the form and colour of the flex print barely change after 100 washes. It is made of a flexible and resilient material - even thin lines do not break. The design must be uploaded as a vector graphic.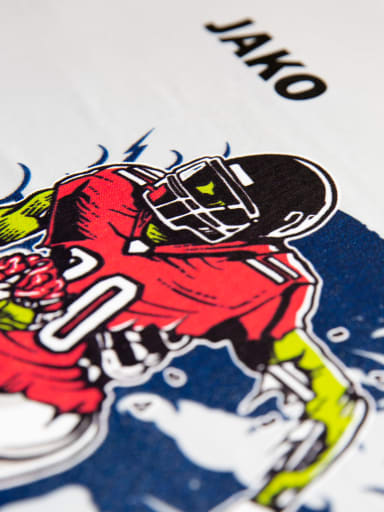 PolyPro
This printing process is also a digital print with which complex and colour-rich pixel graphics can be printed onto your product. Thanks to the latest printing technology, the polyprint process also enables multi-colour printing on breathable polyester fabrics from the sports sector. In this printing process, the ink is preserved and sealed by a special ionization process on the product. As a result, the print is particularly long-lasting, washable and hard-wearing.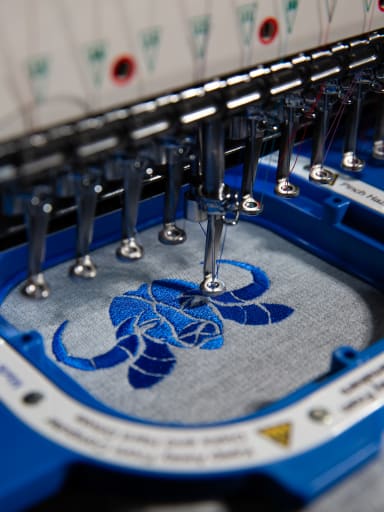 Embroidery
Our products can also be embroidered. This involves applying graphics or text to the desired product using a needle and thread. This finishing technique is extremely durable and can withstand intensive boil wash. Our embroidery machine is equipped with 15 real color threads and embroiders the desired colors on the T-shirts and other clothing in several steps.
Whichever way you decide to go, your custom T-shirts will stand out with our vibrant prints. Whether you want it on the front, the back or the sleeve of your T-shirts, you can place your designs practically anywhere - there are (almost) no limits to what you can create! All personalised T-shirts are produced individually by hand in-house which is why it takes 5–10 working days for delivery – which is free, of course.
And if you do run into any issues while creating your shirts or have any further questions regarding your custom printed shirts, don't hesitate to contact our specialists by using this number 🕿 +44 20 39661820. We are more than happy to help you with our expertise and experience.
We'll Help You To Design Your Unique Custom T-shirts
We offer a huge selection of stylish and affordable shirts for men, women, girls, boys and everything in between, with many different colours and sizes to choose from. At TeamShirts you can even get personalised T-shirts from leading brands such as American Apparel, Fruit of the Loom or Gildan, to name a few. Why not wear your own designs, witty slogans or logos in style with our T-shirts? Want to go green with your custom T-shirts? Try our organic tees which were produced using an environmentally sustainable process. Are you the athletic type or do you like to do lots of outdoor activities? With TeamShirts, you can customise not only a variety of shirts, but also personalised sportswear - from breathable shirts and sports T-shirts to football jerseys. Whatever you have in mind, we've got you covered, and with our bulk order discount you can be sure you're getting a great price - the more you buy, the more you save, it's that simple! Want to order the same personalised shirt a hundred times? Maybe you'd rather order twenty different garments? Want to place the design on the sleeve of one tee and on the back of the next shirt? No matter what you decide on, we're here for you and we'll help you to save money while looking good. It's what we do.
Depending on what you would like we will select the best type of printing for your project. If you need a specific type, just let us know! Our customer service team are always happy to help. And have a look at all the printing techniques we offer:
You can print on the front, the back, the sleeves and also create matching shorts, leggings, hats and hoodies. Go to town! Teamshirts offers a huge range of quality clothing that you can choose from, in lots of colours and sizes.
With Teamshirts you don't have to worry about your printed clothing peeling or fading. We use the latest printing technology to ensure your designs will last, so you can treat your custom T-shirts like any other in your wardrobe.
Just six! And they don't have to be the same. You can order different sizes, clothing items and designs and still get a discount. And the more you order, the cheaper it gets, check out our discount table.
Of course you can! And with Teamshirts Wizard it has never been easier. As simple as click and drag, you create your design from templates, cliparts and customisable designs or upload your own. Did we mention the hundreds of stylish fonts?
No order is too small for us., we care for all of our customers equally! At Teamshirts we do our best every time, so your single T-shirt will be printed with the utmost care and highest quality. And if you order a thousand, we assure you the result will be the same !

Very happy with design and quality of…
Very happy with design and quality of hoodie. Package arrived in good time before due date. Thank you!
Mike Bennetts

My friend absolutely loved the hoodie…
My friend absolutely loved the hoodie and it showed up at her doorstep way ahead of time!! Thank you so much! I will keep coming back :)
Sara Annes Matos

Fast delivery and very good quality
Fast delivery and very good quality. Would use again without hesitation.
Ross Grant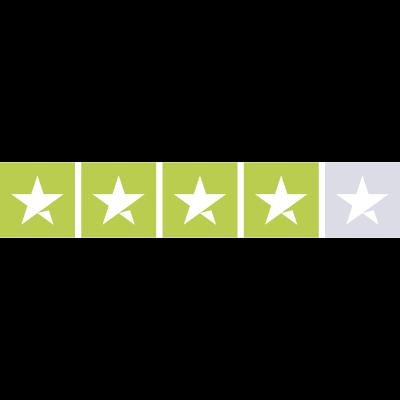 Sweatshirts good but Tote bag poor
I ordered samples of sweatshirt and Tote bag. Sweatshirt is very good but Tote bag looks very thin and cheap. They printed our logo on sweatshirt very well but it's expensive so if you are a Charity like we are it's going to be very difficult to retail them at a profit.
Ruth Mew

Great quality shirts and print.
Great quality shirts and print.
Dan Clarke