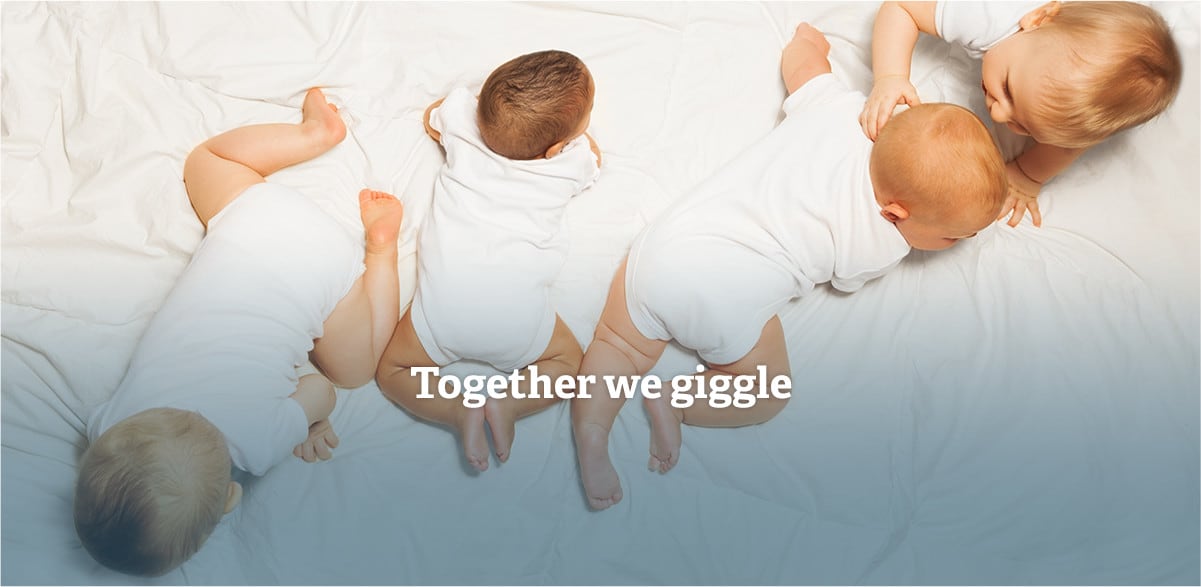 Personalised Baby Clothes
Save Big on Clothing for your little ones
Our Designs for Personalised Baby Clothes
Why choose TeamShirts? Everything for your Baby – Made with Love
What better way to celebrate the arrival of your baby than with personalised baby gifts! Personalise new baby bodies with family photos, cute designs, a slogan, nursery rhyme or a welcome message for your freshly-hatched bundle of joy. Personalised baby clothing or accessories (such as a bib, a sleepsuit or bodysuit) make for a great maternity leave or baby shower gift and is a lovely keepsake. At TeamShirts you can find a broad selection of fantastic, high quality clothes and accessories to outfit every newborn, baby and toddler of your family and friends. Look no further than TeamShirts for personalised baby shower or maternity leave gifts, wedding or christening gifts, maternity clothing, or practical accessories and clothes that you use as fillers for gift hampers to give to the proud new mums and dads. From personalised long-sleeved bodysuit or short-sleeved babygrow, sleepsuit, from personalised bibs to baby t-shirts you're sure to find truly memorable personalised gifts for the little ones. We've got clothing that caters to your baby's sensitive needs at every stage of its development including organic shirts from TheEarthPositive collection by Continental Clothing! All personalised baby clothes come in a variety of sizes and different vibrant colours. We also offer a growing assortment of practical accessories such as bibs for mealtimes, snug blankets, baby caps and hats to keep your baby girl or boy warm while out for a walk, or cuddly toys such as teddies or reindeers that make for perfect nursery companions and Christmas gifts. Personalise the blankets and teddies with cute designs to complete your baby's adorable look. We know that babys grow fast! For toddlers and older kids we provide a large range of personalised t-shirts, long-sleeve shirts, football shirts and jerseys as well as comfy hoodies that are durable enough to survive nursery, play time, and kindergarten. Don't forget the parents! Treat yourself with caps or beanies, poloshirts, sportswear or personalised underwear. Funny personalised unisex shirts or hampers filled with practical clothes and accessories are sure to bring a smile to new mums' and dads' faces who are busy changing nappies. You're sure to find the perfect gift right here.
Custom Prints as Unique as your Baby
At TeamShirts we understand how special every baby is, so why get them off the shelf clothes and toys when you can get them wonderful personalised gifts instead? With our simple and straightforward TeamShirts designer tool you can personalise everything from babygrows, bibs and sleepsuits to cuddly toys, blankets, baby shirts, or hoodies for your toddler in 4 easy steps. Upload a photo of baby's family, a cute design or logo, add your little one's name, mummy's and daddy's name, a personal slogan or your favourite nursery rhyme. Now you just have to customise your prints by choosing from a variety of fonts and colours – and your truly unique, creative clothes are ready for printing. Need design inspiration for birthday, Christening, maternity leave or wedding gifts? Let us help you! Check out our vast gallery of adorable, child-friendly designs, images and slogans that you can customise individually or combine with your own designs. Find (or create) the style that works for you and your baby! The right printing technique is important to make sure that the prints on the sleepsuit or blankets will last as long as possible. At TeamShirts you can choose between flex printing, flock printing, screen printing, and digital direct for your custom printed sleepsuit. Unfortunately we cannot offer embroidered baby bodysuits, blankets or toys yet. But we're working on it so that you will soon be able to get your embroidered babygrow or sleepsuit from TeamShirts too. Want to personalise a babygrow, bodysuit or bib with a photo or a particularly colourful image? Digital direct is the perfect choice for you! The colours are directly sprayed on the sleepsuit and made durable with a (non-toxic!) hardener. With digital direct you can personalise the back and front of your baby's sleepsuit or your toddler's shirts with your individual designs and texts. Would you like to print on the sleeves of your personalised clothes and are looking for hard-wearing prints? Want to personalise baby's sleepsuit with a single-colour logo or a slogan? Then, flex and flock print is the way to go! The design is cut from a coloured foil (flock prints have a coloured, velvety, fuzzy surface) and then pressed onto the shirts or bibs under high heat. The prints contrast extremely well with the fabric and barely change even after 100 washes. Even special flex foils such as glitter or glow-in-the-dark are possible! Alternatively, we can also provide screen printing which is the best option when you want to order personalised blankets, teddies, baby bodysuits, personalised baby shirts, or bibs in bulk. Simply get in touch with our friendly and dedicated customer service team for a free and non-binding quote! Shopping for gifts has never been more fun.
Easy-Peasy Baby Clothes - Your TeamShirts Benefits
Deep discounts on bulk purchases, which can reach 60% off of the individual item price.
Free Standard Shipping with every order. The way it should be.
We're sure you'll be satisfied with your products, so much so that we'll cover the return costs for 30 days after you receive your products if you're not.
In a rush? Choose our Express delivery option to receive your personalised garments within 3 working days.
Have a question for us or want to double check something? Get in touch with our outstanding customer service team. We're here for you.
Names & numbers, personal graphics service, dedicated design specialists, a huge free graphics and template library and refined, in-house developed design tools. We can bring your vision to life.
Whether it's flex and flock, plot printing, digital direct and digital transfer - we've got the right printing method to create the custom garment you've been dreaming of.
With over 14 years in the industry, we've seen our fair share of custom garments. Our current products and services are the culmination of that experience - there's never been a better time to use TeamShirts!