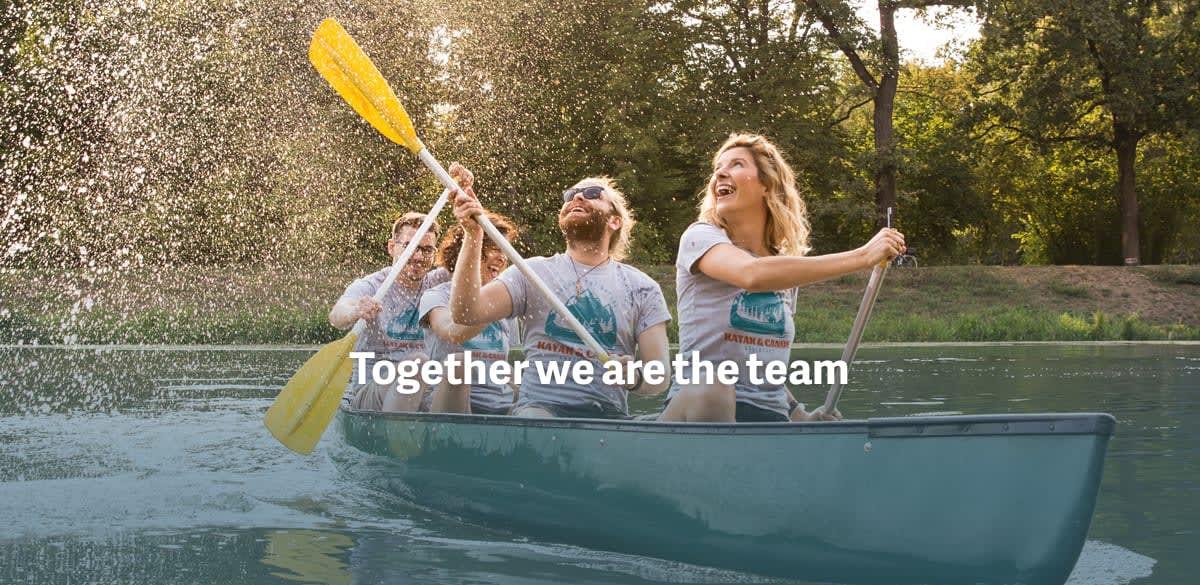 Personalised T-shirts
It all starts with the right gear - make your own T-shirt!
Choose from our wide range of different shirts, hoodies, longsleeves, jerseys or accessories. We print on almost anything you can wear - and so much more.
Design your own shirt in just a few steps
How do you design a T-shirt for your team?
Choose your T-shirt: Browse through our product and colour selection.

Upload your T-shirt design: Upload your own graphics or photos or use the free designs from our gallery. You can adjust the size and position of your design as needed.

Add your text: Complete your T-shirt design with your own unique text and choose a style that suits you from our range of fonts.

Add Names & Numbers: Use our "Names & Numbers" feature for team or event orders. This is an easy way to personalise your T-shirts for the whole group.

Done! Let us print & deliver: A suitable print method will be automatically selected depending on your chosen material and graphics. Free delivery is included.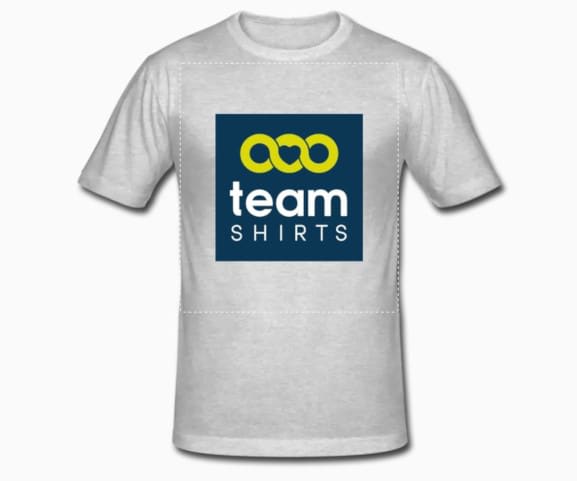 Customer Reviews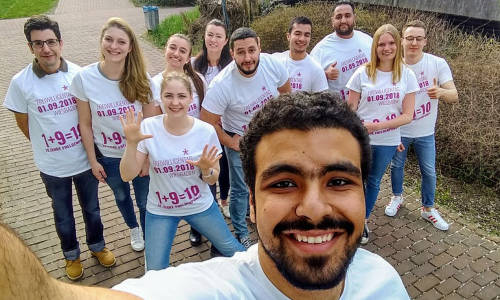 "A heroic "thank you"! The budget for our volunteers´ project is low anyway - thanks to TeamShirts, we were able to print our T-shirts at very reasonable prices, in really high quality. We´re looking forward to coming back next year!"
Volunteers´ Centre
"The shirts were great quality and good value for money. They were perfect for running, and it was easy for everyone to scan the QR code we printed on the back."
Pluspol Interactive GbR
"Thank you TeamShirts for having supported our wonderful project by proposing great quality t-shirts, helping out with the logo's design and for your highly competitive prices!"
SAMU 94
Our Ideas for your T-shirt Design
Why TeamShirts? We have a passion for printing
We have 15 years of printing experience, allowing us to offer you and your team different printing techniques to ensure that your personalised T-shirts will come out looking great.
Digital Direct
Print with computer-operated digital print. Colours are sprayed on and made durable with a hardener. The fabrics can still be felt when touching the design, although the feeling is smoother than when using digital transfer print and therefore more comfortable to carry. Hand-washing ensures a long-lasting print. Results in a relaxed "vintage look". The design looks slightly faded, so don't expect brash colours. This technique is not suitable for prints on breathable products, since they require flex or flock printing.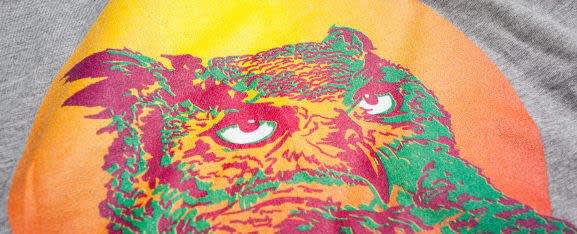 Digital Transfer
Smooth, slightly shiny print with quality print results. The design is put on transparent transfer foil, and then cut out and pressed on to the fabrics whilst applying great heat. What remains is a hardly visible rim of transfer foil. This technique is used strictly for prints on white breathable material, which require particular handling.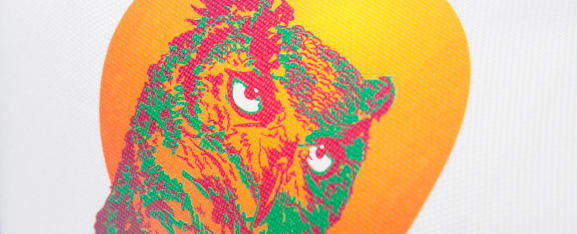 Laser Print
Suitable for printing of accessory fabrics. Smooth, slightly shiny print with brilliant print results. The design is put on transparent transfer foil, and then cut out and pressed on the fabrics while applying heat. Ideally suited for designs and photos and prints on accessories such as bags, caps and hats.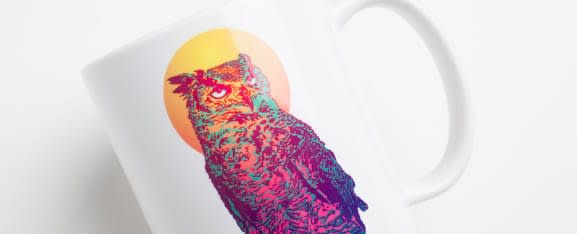 Flex Print
Flex is a printing technique where the design is cut from a coloured foil and then pressed onto the shirt under high heat. The printed colours have a slight shine to them and contrast extremely well with fabric. Tests have shown that the form and colour of the flex print barely change after 100 washes. It is made of a flexible and resilient material - even thin lines do not break. The design must be uploaded as a vector graphic.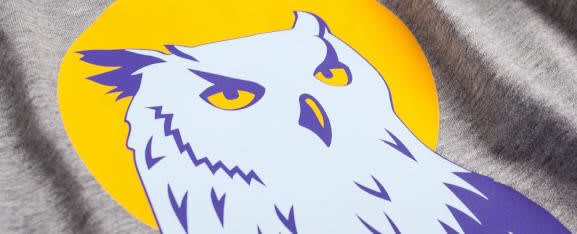 Whichever way you decide to go, your custom T-shirts will stand out with our vibrant prints. Whether you want it on the front, the back or the sleeve of your t-shirts, you can place your designs practically anywhere - there are (almost) no limits to what you can create! All personalised T-shirts are produced individually by hand in-house which is why it takes 5–10 working days for delivery – which is free, of course. Can't find the shirt you're looking for? Simply contact our friendly customer service team.
We'll help you to design your unique custom T-shirts
We offer a huge selection of stylish and affordable shirts for men, women, girls, boys and everything in between, with many different colours and sizes to choose from. At TeamShirts you can even get personalised T-shirts from leading brands such as American Apparel, Fruit of the Loom, Hanes or Gildan, to name a few. Why not wear your own designs, witty slogans or logos in style with our T-shirts? Want to go green with your custom T-shirts? Try our organic tees which were produced using an environmentally sustainable process (check here for more). Are you the athletic type or do you like to do lots of outdoor activities? With TeamShirts, you can customise not only a variety of shirts, but also personalised sportswear - from breathable shirts and sports T-shirts to football jerseys. Whatever you have in mind, we've got you covered, and with our bulk order discount you can be sure you're getting a great price - the more you buy, the more you save, it's that simple! Want to order the same personalised shirt a hundred times? Maybe you'd rather order twenty different garments? Want to place the design on the sleeve of one tee and on the back of the next shirt? No matter what you decide on, we're here for you and we'll help you to save money while looking good. It's what we do.
We reward bulk orders
We promise simplicity! Designing your own shirt is a great way to show your creativity and identity; personalised T-shirts have the power to create lasting memories, start new traditions, and unite groups for a common purpose. Have something you want to tell the world? Say it loud with a personalised v-neck shirt! Want to show your school pride or give your team the winning edge? Design your own team apparel!
Planning a friends next birthday party, hen or stag night? With our personalised shirts all of your events are sure to be remembered. With our online T-shirt maker it's really easy to create your own custom printed T-shirts and personalise them for each member of your team – and they're ready to go in just a few simple steps. And if you do run into any issues while creating your shirts or have any further questions regarding your custom printed shirts, don't hesitate to contact our specialists. We are more than happy to help you with our expertise and experience. Express yourself the easy way with a personalised shirt from TeamShirts.